At ENRECO we have a feeling of pushing the cooling and refrigeration technology forward every day.
A major international retail company asked us to design for them a system for their latest new store but also that will be a standard for the future.
We designed with one major idea: JUSTIFIED AND ECONOMICALLY PROFITABLE  USAGE OF MOST MODERN TECHNOLOGY.
The design has been proceded by a calculation of investment + life cost of three major cooling and refrigeration technologies:
R404a – separate positive and negative system
R134a / R744 – cascade system
R744 – booster system
Each one with and without heat recuperation.
This strictly economical and "business first" approach permitted the Client to chose the best solution for this selected construction as well as his future.
With a 4 years payback compared to the poupular R404a the decision was simple: R744 + heat recuperation.
For the sake of this project we consulted many major equipment producers including:
Cabinet producers
Booster compressor pack producers
Piping producers
Regulation system producers
Evaporator and gas cooler producers
CO2 detection producers
and many others
This enabled us to design a system that will be modern not only by local – Polish standards but modern regardless of location.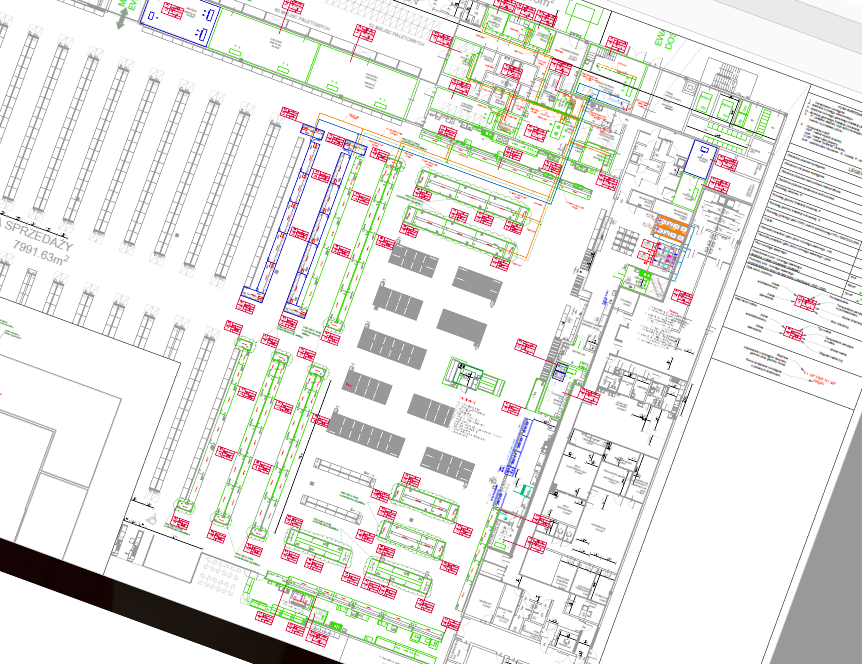 Last but not least the system we designed is "2020 and 2022 proof". Which means that existing and future F-gas regulations will not affect the cooling and refrigeration system. Allowing our client to concentrate on what he does best: RETAIL.
If You think about developping Your business or about cost optimisation in cooling and refrigeration give us a call to see what we can do for You.